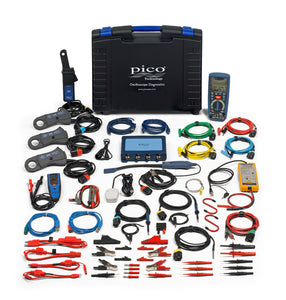 This exciting new kit has been designed to provide the essential measurement tools you will need for both high and low voltage systems, including insulation testing and safety testing. It is based on the market-leading PicoScope 4425A with PicoBNC+® technology and is supported by brand new EV Guided tests in the PicoScope 7 Automotive software.
What's included in the Kit?
PicoScope 4425A with PicoBNC+
3 x PicoBNC+ 2000A current clamps
4 x PicoBNC+ Premium test leads
Active HV differential probe
PicoBNC+ x10 scope probe
PicoBNC+ Resistance lead
PicoBNC+ COP probe
PicoBNC+ 60 A clamp
Pico Insulation tester with PC link
Pico Two-pole voltage tester for 0 V potential
You can buy a PicoScope with the confidence that your investment will handle a varied workload today and in the future. Stay ahead of your competition with PicoScope and improve your customer's satisfaction and workshop throughput.