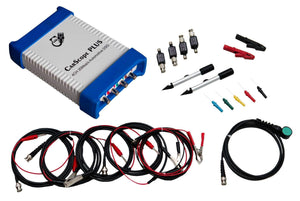 Efficient enhanced speed LAN based 4-channel automotive digital storage oscilloscope
Unique LAN solution for complete vehicle analysis
CarScope Plus is a very high quality four channel automotive digital storage oscilloscope with enhanced speeds. It's built for the automotive industry. When you want speed, accuracy and reliability then this is the smart choice. This is an affordable way to diagnose today's high-tech vehicles.
There are several "presets" that will allow you to just hook up and go without the need to set a voltage scale, trigger or time base. CarScope Plus is also fully capable of diagnosing primary and secondary ignition as well as Coil-on-Plug. Many automotive specific adapters available including amp clamps and coil on plug adapter, pressure pulse test are also available.
LAN (Ethernet) connection does not require specific drivers for scope to work making initial setup quick and easy. Installation is a breeze on any laptop or desktop running Windows XP, Vista, Windows 7 or 8 (8.1). Future software updates are included at no charge.
Electrical safety of computer used
Ethernet RJ45 Sockets are magnetically coupled and therefore CarScope Plus device and PC are galvanically isolated. The galvanic isolation completely eliminates the risk of damage to the computer that is used from electrical over voltages and transient voltage spikes. It also eliminates ground loop currents flowing between the PC and CarScope device which can cause damage and inaccurate measurements.
CarScope Plus is free from USB connectivity problems
A great advantage of the LAN connection is the great common mode rejection. Magnetic filtering minimizes static discharge noise, magnetic fields and radio frequency interference.
Hardware-based trigger system
CarScope Plus has a high stability trigger system made of four independent hardware-based circuits.
Software for testing the most important electrical and electronic components in the vehicle
Around 30 pre-set component tests. You can select a vehicle component and allow the CarScope Plus to set up for the expected signal or manually change your oscilloscope settings.
To download CarScope Software please follow this link: https://autoditex.com/page/carscope-program-for-windows-62-1.html