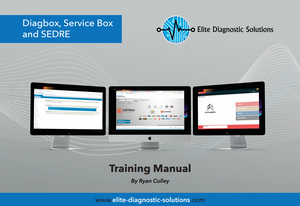 Do you struggle to use the genuine Diagbox software? Do you find it difficult to navigate the PSA aftersales portal? Do you want to be able to service and diagnose their branded vehicles?
We have all the answers! Designed with the independent aftermarket user in mind, this manual explains all the difficult issues in simple, easy to understand steps. Screen grabs guide you through everything you need to know about how to operate the PSA software and portal. This includes software updates, registration, Diagbox installation and much more.
Written by Ryan Colley, A Citroën Master technician with years of experience using this tool in both the dealership and aftermarket sectors.
Page 1: Front Cover
Page 2: What Will Be Covered
Page 3: Contents
Pages 4–10: Registration Process
Pages 11–27: Diagbox Installation
Pages 28–36: Purchasing Tokens
Pages 37–62: Service Box
Pages 63–72: SEDRE Wiring Diagrams Introduction
Page 73: SEDRE Principle
Pages 74–75: SEDRE Wiring
Pages 76–77: SEDRE Installation
Page 78: SEDRE Description Of Operation
Pages 79–85: SEDRE Tools
Page 86: SEDRE Zoom and Pan Secret
Pages 87–90: SEDRE Errors – "Your subscription has expired"
Pages 91–96: Diagbox Software
Pages 97–109: Diagbox Usability and Operation
Pages 110–112: Diagbox Global Test
Pages 113–119: Diagbox BSI Fault Log
Page 120: Diagbox Usability
Page 121: Diagbox Identification
Page 122: Diagbox Fault Reading
Pages 123–126: Diagbox Parameter Reading
Pages 127–130: Diagbox Actuator Test
Pages 131–132: Diagbox Repair
Pages 133–147: Diagbox Repair – Downloading
Pages 148–157: Diagbox Repair – Configuration
Page 158: Diagbox SERMI Security – Access Codes
Pages 159–162: Diagbox Documentation and Reports
Pages 163–167: Diagbox Help – Assistance Ticket and WebEx
Pages 168–172: Diagbox Help – Assistance Ticket – Attach Report
Pages 173–175: Diagbox Help – Assistance Ticket
Pages 176–180: Diagbox Help – WebEx