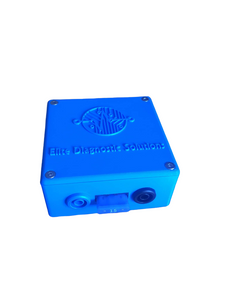 Voltage Drop Diagnostics Parasitic Draw Tester is exactly as the name states. You use this tool with any oscilloscope that allows for custom math channels. With this tool, you're measuring the voltage drop across the VDD, which when inputted in the scope correctly will show you the amperage of whichever system you're checking at that time. There are benefits of using this over an amp clamp or multi-meter. Such as no "drift" in your reading like you run the risk of while using an amp clamp during long overnight tests, this will also give you a much more accurate reading than a typical amp clamp. This is an excellent tool to have in your toolbox when you get those dreaded parasitic drains.
This tool also has a built in fuse in-line in case of accidental connection between the battery terminals. This will prevent irreversible damage to the unit internally. 
Every VDD Box will come with 2 leads, 2 alligator clips & a BNC to BNC lead.